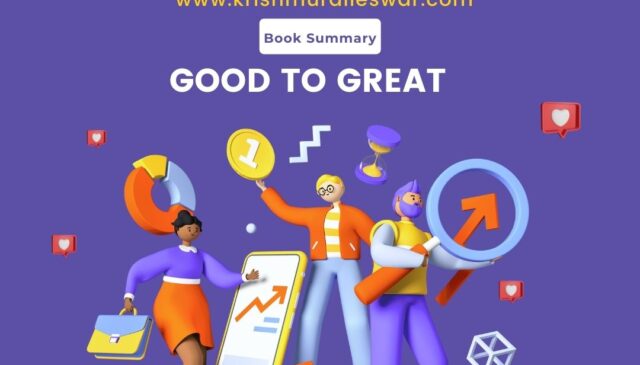 Good to Great Book Summary
Why some companies make the leap and others don't
Jim Collins
1. Mediocrity has robbed many of the zeal to lead a great life
Good is the enemy of the great. One of the things that limit us is the idea that good is acceptable.
It is better to fail in originality than to succeed in imitation.
2. The leadership trait of executives in good-to-great companies is finding self-motivated people to join their team
Leaders are not fame hugging individuals. They are selfless individuals who believe that the ambition of the company comes first before theirs.
The greatest leader is not necessarily the one who does the greatest things. He is the one that gets the people to do the greatest things.
Their penchant for success meant that they put the right people in the right position.
Rather than invest time in motivating people, their time was better spent finding self-motivated people to join their team.
3. The good-to-great companies are those that had the courage to confront a brutal fact
Remember that things are not always as they appear to be… Curiosity creates possibilities and opportunities.
A leader must lead by asking questions and not delivering answers. You should not use your questions to undermine the credibility of your team, instead, these questions should come from a deep urge to understand, before providing your insight.
Good-to-great companies had relied on debate sessions where arguments​ and counterarguments would eventually stir the team towards the most viable decisions.
Great companies do not hide their failures. Rather, they dissect it, learn from it, and move on.
They continue to build their company or brand around simple strategies. They knew what they wanted, they understood it, and they dedicated all of their resources to it.
These companies decided to dedicate their time to only the things which they would dominate.
4. Self-discipline and not tyrannical discipline drive business growth
Money should not be the sole motivation. Instead, the motivation to be part of something great must propel you and your team to do your best.
Self-control is the chief element in self-respect, and self-respect is the chief element in courage.
Good-to-great companies invested their time in finding simple business strategies, and they developed policies that would make every decision align with these strategies.
You should consider a technology only if it aligns with the simplistic approach that has brought you thus far.
Technology would never take the place of great management principles.
5. You must endure the buildup before you experience the breakthrough.
Success is not final, failure is not fatal: it is the courage to continue that counts.
The buildup is an ongoing process that takes into account the step-by-step growth inspired by every decision, every business restructuring, every leadership remodeling, and every technology incorporation. In the end, it is this buildup that eventually results in the breakthrough.
Practice Lessons from Good to Great Book
Invest more in people.
Find structure in chaos.
Subject all your efforts into areas of business that you can dominate.
Be blessed by the Divine!
Krish Murali Eswar.